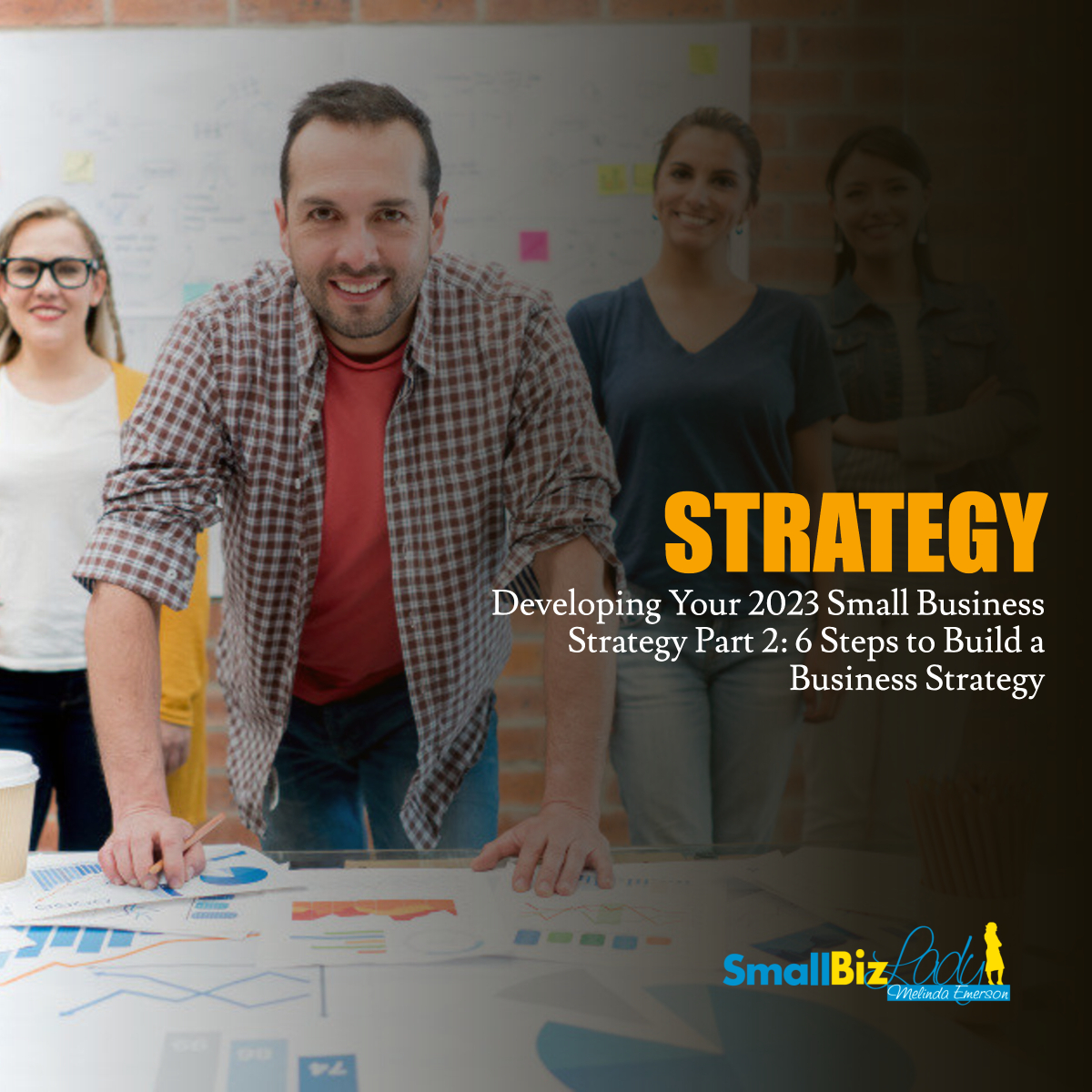 Last week, I started a new series for small business owners aimed at helping you build a business strategy that will set your small business up for success in 2023. Last time we covered 7 reasons why you need a small business strategy. In this article, we'll discuss how to do it as I share 6 steps to build a business strategy.
Before we get started, let's get clear on one thing. 'Winging it' is NOT a strategy! Yet too often, I speak with business owners starting new businesses or venturing into new markets who haven't thought about things like target customers or value proposition. Outlining your plan, creating a roadmap, and figuring out how you'll get the money to do everything is the only way you'll succeed. Vaguely knowing what your business needs is not the same as developing a careful strategy. And even if you currently have a plan, this series (and this article specifically!) will surely bring up a thing or two that you might have missed. So, check out my tips below, and stay tuned for Part 3 of this series, where I will discuss the main reasons why small business strategies fail.
6 Steps to Build a Business Strategy
If you want to build a business strategy, follow these steps that walk you through the essential elements of creating a strong plan to guide your small business.
1. Review Your Business Performance
The first step to build a business strategy is to figure out where you're starting from. By examining your past business performance and your current state, you'll get a baseline to build on. Look at things like:
Annual revenue

Customer lists

Average revenue per transaction

Most popular products or services

Market position

Employees

Sales processes

Profit margins

Customer satisfaction
As you review each area, use a SWOT analysis (which examines strengths, weaknesses, opportunities, and threats). Bring your team together to get feedback in each area and ensure you collect all the information you need to assess your current business state accurately.
2. Consider External Factors
In addition to looking at what is happening inside your business, you'll need to look at what is happening outside too. As you build a business strategy, it will have to factor in external elements, including: 
Industry trends

Government regulations

Legal compliance

Political policies (such as tariffs)

Technological advances

Environmental concerns
External factors can be considered opportunities or threats depending on how they impact your business.
3. Create (or Tweak) Your Vision Statement
A vision statement answers the question, "Where do you want your business to be in the future?" As you build a business strategy, what are you striving for in your small business? In 2007, I boldly envisioned becoming America's #1 Small Business Expert. Be bold with your vision statement too! Your vision is supposed to motivate you. It should describe what you want to be known for and guide the future direction of your business. 
4. Create (or Tweak) Your Mission Statement
While the vision statement explains where you want to go, the mission statement explains why you do what you do. What is your business's purpose? What drives you? For example, my mission is to 'end small business failure.' It explains the purpose of my business and the core of my 'Why' story. Similarly, your mission statement should answer these questions:
What do we do? 

Who do we serve?

What problem do we solve?
5. Set Objectives
With a higher-level understanding of your small business from your exploration in #1-4, you can now build your business strategy with specific objectives (goals). When setting objectives, consider the following:
Make sure your goals are SMART (specific, measurable, achievable, realistic, and time-driven).

Each goal should have a KPI (a key performance indicator that will help you measure your progress)

You'll need to allocate budget and human resources to achieve each objective.

You'll want to set objectives for each area of your business
6. Plan Your Execution
The final step to build a business strategy is to take everything you've done so far and put it into a plan of action. If you do everything on this list but fail to complete this step, you'll never see results! So how will you achieve the objectives you just set? 
Clearly define roles and responsibilities for everyone on your team.

Update important processes (for example, you may need a new process for deliverables or reporting).

Add technology as needed to keep everyone on task and facilitate the work. 

Have a plan to communicate information and updates clearly, such as weekly staff meetings or new project management software.
One More Thing You Need to Build a Business Strategy…
By following the 6 steps above, you'll be able to build a business strategy that will take your small business to the next level in 2023! But you'll also need to avoid common pitfalls small business owners make when planning or executing their strategy. That is the topic for my next article, so stay tuned for more!
Do you have any extra tips to help small business owners build a business strategy? Please share them with us in the comments below!
!function(f,b,e,v,n,t,s)
if(f.fbq)return;n=f.fbq=function()n.callMethod?
n.callMethod.apply(n,arguments):n.queue.push(arguments);
if(!f._fbq)f._fbq=n;n.push=n;n.loaded=!0;n.version='2.0';
n.queue=[];t=b.createElement(e);t.async=!0;
t.src=v;s=b.getElementsByTagName(e)[0];
s.parentNode.insertBefore(t,s)(window, document,'script',
'https://connect.facebook.net/en_US/fbevents.js');
fbq('init', '258417117862775');
fbq('track', 'PageView');